Taking the 1st Step to a Better Life
Hi – Dale Grusecki here and I hope you are having a great day!
Are you struggling with that 1st step to take to start making a Better life for you and your family?
I have a few tips that can help you get the ball rolling to a better future for you and your family!
Please check out the video here:
You probably have good intentions right? But is that good enough?
I recently watched a webinar entitled – "Good intentions are not enough"
I think we can all relate to this as I know I did because –
Good intentions will not be the spark you need.
Good intentions will not make the changes you want to make.
Good intentions will not make the money you want to make.
My first tip is to transform those good intentions into a "passion".
"How bad do you want it"? You have to have passion for what you want to do since that passion will drive you to take ACTION!
But first – what actions are you doing daily that you think are helping you?
If they are not productive – then it is time to reevaluate what you are doing on a DAILY basis. And then decide on the things you need to do on a DAILY basis or what NOT TO DO on a daily basis. This could be spending less time "perusing Facebook" or any of the other Social Media platforms. Do you want to be a "watcher" on these platforms or a "doer"? You will have to make sacrifices in the non-productive things you are doing on a daily basis and substitute "productive" things instead.
Your NEW PRODUCTIVE DAILY ACTIONS done on a consistent basis will eventually yield the results you are looking for. Do not look at the end result after just a few days or a few weeks, but rather – stay consistent with those DAILY ACTIONS and I guarantee that you will see results over time.
Here are 3 things that you could start to do on a DAILY BASIS:
If you already have some tasks that you feel are productive, then set the timer for 30, 60 or 90min and STAY FOCUSED for the whole time. Shut your phone off. Give the kids a timer too for that time and remind them not to interrupt you unless an emergency. Do not go over a 90min block as it has been proven that this is the longest period of time that you can remain focused before you need a quick break.
Another thing you can begin to do is read for 30min per day an empowering book such as:

Think and Grow Rich
Awaken the Giant Within
Or any book that empowers you and keeps you in positive frame of mind. Try to stay away from the negativity of the world such as the News or even co-workers that bring you down.

The 3rd thing you can do is use a daily calendar and block the time that you going to "work" on the changes you need to make. Make sure your family is aware of your "work" calendar as they will have to make sacrifices too for the "future positive things that are coming your way"!
I hope you got some value from this and if you did then please share with a friend that you think might need it too!
Please shoot me any questions you may have or if you are looking for more help like this to transform your life, please email me at dalegrusecki@gmail.com or visit my website at dalegrusecki.com
Thanks and have a great day!
Dale
THE TOP EARNER FRAMEWORK?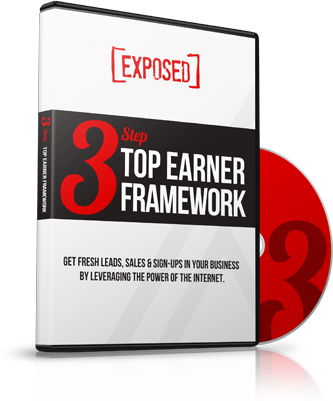 FINALLY Unlock the 3-Step Framework and Learn How to Get Fresh Leads, Sales & Sign-Ups in YOUR Business Leveraging the Power of the Internet.